Notice
: WC_Product::get_gallery_attachment_ids is
deprecated
since version 3.0! Use WC_Product::get_gallery_image_ids instead. in
/var/www/vhosts/interactivedisplays.ie/httpdocs/wp-includes/functions.php
on line
3840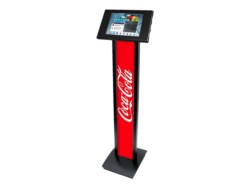 Notice
: WC_Product::get_gallery_attachment_ids is
deprecated
since version 3.0! Use WC_Product::get_gallery_image_ids instead. in
/var/www/vhosts/interactivedisplays.ie/httpdocs/wp-includes/functions.php
on line
3840
Compulocks Galaxy Secure Metal Jacket Enclosure with BrandMe Floor Stand Kiosk Black
€536.59
Mounting kit ( anti-theft enclosure, floor stand ) for tablet
black
screen size: 10.1″ wide
for Samsung Galaxy Tab 3 (10.1 in)
| | |
| --- | --- |
| Manuf P/N | 140B300GEB |
| TD# | 3243479 |
Product Description
The BrandMe:Security Galaxy Floor Stand – Galaxy Kiosk is an innovative Galaxy stand offers a complete and affordable solution for a custom branded security kiosk.
Secures Galaxy Tab3 10.1″.
Displays your Galaxy in both portrait and Landscape positions.
Secures the charging cube of the Tablet inside the base of the Brandme Stand.
Bolt down the stand to the floor or secure it with a cable lock.
This Patent Pending new and exciting Galxy Kiosk by Maclocks,may just be the world's best Galaxy Security stand and Kiosk in terms of functionality,aesthetics,security,ease of use and price point!
The BrandMe stand will enhance your brand and make a statement to your customers without the need for any signage or additional branding materials.
Notice
: id was called
incorrectly
. Product properties should not be accessed directly. Backtrace: require('wp-blog-header.php'), require_once('wp-includes/template-loader.php'), include('/plugins/woocommerce/templates/single-product.php'), wc_get_template_part, load_template, require('/plugins/woocommerce/templates/content-single-product.php'), do_action('woocommerce_after_single_product_summary'), WP_Hook->do_action, WP_Hook->apply_filters, call_user_func_array, woocommerce_output_product_data_tabs, wc_get_template, include('/plugins/woocommerce/templates/single-product/tabs/tabs.php'), call_user_func, comments_template, require('/themes/Avada/woocommerce/single-product-reviews.php'), WC_Abstract_Legacy_Product->__get, wc_doing_it_wrong Please see
Debugging in WordPress
for more information. (This message was added in version 3.0.) in
/var/www/vhosts/interactivedisplays.ie/httpdocs/wp-includes/functions.php
on line
4148
Only logged in customers who have purchased this product may leave a review.
Notice
: WC_Product::get_upsells is
deprecated
since version 3.0! Use WC_Product::get_upsell_ids instead. in
/var/www/vhosts/interactivedisplays.ie/httpdocs/wp-includes/functions.php
on line
3840