Notice
: WC_Product::get_gallery_attachment_ids is
deprecated
since version 3.0! Use WC_Product::get_gallery_image_ids instead. in
/var/www/vhosts/interactivedisplays.ie/httpdocs/wp-includes/functions.php
on line
3840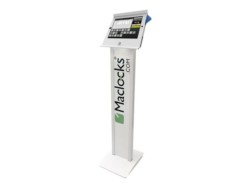 Notice
: WC_Product::get_gallery_attachment_ids is
deprecated
since version 3.0! Use WC_Product::get_gallery_image_ids instead. in
/var/www/vhosts/interactivedisplays.ie/httpdocs/wp-includes/functions.php
on line
3840
Compulocks iPad Secure Slide POS with BrandMe Floor Stand Kiosk White
€554.47
Stand for tablet
steel
white
floor-standing
for Apple iPad Air; iPad Air 2
| | |
| --- | --- |
| Manuf P/N | 140W257POSW |
| TD# | 3272359 |
Product Description
The SLIDE Stand iPad POS Stand is a complete display option to use your iPad POS in a professional setting. This POS Stand is a great option for use in front of the house or greeting function and will save you valuable counter or table top space.
The customizable display panel allows you to draw attention to the Stand and will give your establishment a commercial feel.
Notice
: id was called
incorrectly
. Product properties should not be accessed directly. Backtrace: require('wp-blog-header.php'), require_once('wp-includes/template-loader.php'), include('/plugins/woocommerce/templates/single-product.php'), wc_get_template_part, load_template, require('/plugins/woocommerce/templates/content-single-product.php'), do_action('woocommerce_after_single_product_summary'), WP_Hook->do_action, WP_Hook->apply_filters, call_user_func_array, woocommerce_output_product_data_tabs, wc_get_template, include('/plugins/woocommerce/templates/single-product/tabs/tabs.php'), call_user_func, comments_template, require('/themes/Avada/woocommerce/single-product-reviews.php'), WC_Abstract_Legacy_Product->__get, wc_doing_it_wrong Please see
Debugging in WordPress
for more information. (This message was added in version 3.0.) in
/var/www/vhosts/interactivedisplays.ie/httpdocs/wp-includes/functions.php
on line
4148
Only logged in customers who have purchased this product may leave a review.
Notice
: WC_Product::get_upsells is
deprecated
since version 3.0! Use WC_Product::get_upsell_ids instead. in
/var/www/vhosts/interactivedisplays.ie/httpdocs/wp-includes/functions.php
on line
3840